Products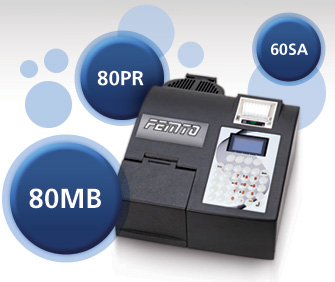 The line of FEMTO Spectrophotometer is developed with high standard of quality and follows strict standards of security and performance required by national and international market.
You have several models available, each with its advantages, applications and technical characteristics, depending on the needs of your business. Please note that throughout the set of products, your organization has the support of a specialized technical assistance and prepared to meet it where necessary.
We present a family of spectrophotometers most complete fully designed to meet each application.
| Model | Main applications |
| --- | --- |
| Cirrus 80MB Spectrophotometer | Molecular biology, biochemistry, cell biology , immunology |
| Cirrus 80 / Cirrus 60 Spectrophotometer | Chemical analysis in general, laboratory of water, soils, cell biology, biochemistry, chemical industry... |
| Cirrus 80ST Spectrophotometer | Biochemistry, limnology, botany and universal double-beam UV-VIS. Manufacturing of beer and wine, flavorings. |
| Cirrus 60ST Spectrophotometer | General use of double beam VIS, industries of beverages and juices. |
| Cirrus 80PR Spectrophotometer | Pharmaceutical industry, cosmetics and pharmacy of manipulation, botany. |
| Cirrus 60SA Spectrophotometer | Sugar and Alcohol |
| Cirrus 80SA Spectrophotometer | Sugar and Alcohol |
FEMTO Indústria e Comércio de Instrumentos
R. Jaguarí, 12 - Bosque da Saúde - São Paulo, SP - Brasil -
Phone: 55 11 5589.6964 / 5581.4713 / 2577.1466 / 5587.5166
Voltar para o topo